The cover of bine☃'s IT HURTS 2 INHALE
The next System Focus is here, and it's on a new wave of gleaming grey, platinum beats (click here to read). It looks at producers such as bine☃, DYNOOO, Dutch E Germ, M-O-R-S-E, Sentinel, Subaeris, Weed Konducta, and James Ferraro on his new SUKI GIRLZ, and how their music is made of metal, glass, tasers and luxury. I'll post some of the best tracks from it and relevant to it up here in the coming days.
Beat-making is typically a low-concept process, and such styles emerge organically like storms over the sea. In the past few months, and in many ways over the past few years, one has emerged with a particular brooding, hi-tech, alienated feel, spanning hip-hop and more experimental forms. It's marked out by metallic or glassy sounds, spurts of cybernetic hi-hats, atmospheric synth pads washed in reverb, a downcast, captivated, sometimes almost depressive mood, and the vague but provocative suggestion of luxury and distant climes...
If these beats were made of something, it might be platinum, the most precious metal. Platinum is the gold beyond gold... Like a symbol for a kind of empty wealth addiction, platinum is a lonely, joyless metal, somehow more inhuman than all the others. It's highly unreactive, but that's just another way of saying it won't tarnish, remaining intimidatingly perfect. Like the music of Drake, The Weeknd and Kanye on Yeezus, platinum beats bring the golden bling associated with some more straightforwardly entertaining hip-hop beats styles into a grim, heavy, flawless, extreme, post-human and, eventually, downright weird greyness...
DYNOOO's These Flaws Are Mine to War With
In any case, there's certainly a lot of metal in these tracks, clanging and gleaming between the struts of percussion like commodities laid out all nice in a window display. But these tracks also suggest cars on the assembly line, pieced together by the stop-start movements of robotic arms. Tuned metal percussion (or 'metallophones') has been used by both Ferraro and Al Qadiri since 2011...
M.E.S.H's Scythians
Glass (at least traditionally) is what screens are made of and it's been a popular office-block building material lately, it divides and shields people from the outside world—or the inside world. Glass can be both beautiful and dangerous, it's delicate, precarious; hitting it, even for music, is asking for trouble. Or maybe the glass sounds are really diamonds. In any case, it's often difficult to tell the sonic difference between glass and metal, so musically speaking they merge into the same substance: hard, cold, inorganic, mirror-like...
Rather than using it as just another beat-making tool, these producers really seem to understand the inherently strange qualities of this percussive structure. It's a thin, rapid-fire sound that at first seems too pervasive and mechanical to be pleasurable, but soon makes a compelling contrast to the smoother material beneath it. The sound's technological connotations are many—it could be a robotic hummingbird, a detailed manufacturing process using a tiny drill or jackhammer, a money-counting machine, or even the taser that police forces and militaries all over the world are now armed with...
bine☃'s THINGS WILL BE BETTER FROM NOW ON
Something else that marks out this style, underlining but complicating its theme of luxury, are the hints of ethnicity that run through it, adding a dimension of globalisation to its darkness... Ferraro reflects the globalisation of luxury lifestyle on SUKI GIRLZ (the word 'Suki' has many different significances across Asia), many of its tracks (for example, "2″ and "19″) opening with synthesised female voices boasting simultaneously with Asian accents or in Asian languages about their status and decadent appeals, as if they were talking commodities made bilingual for sale to the travelling business class...
James Ferraro's SUKI GIRLZ
DYNOOO's brilliant tape These Flaws Are Mine To War With is particularly rich in this way, each track a cyborg concatenation of fragments—not so much a beat as a bouquet of loops—that, like beats by Karmelloz, nonetheless suggest a coherent viewpoint, maybe that of an algorithmic science probe on the surface of an alien(ated) Earth. Alongside airy and glassy tones, DYNOOO places the cries of eagles, synthesised speech, laser guns, and what could be torn pieces of film music. The suggestion is of an intelligence that has great power but, frighteningly, is nouveau-information-riche and not yet fully mature...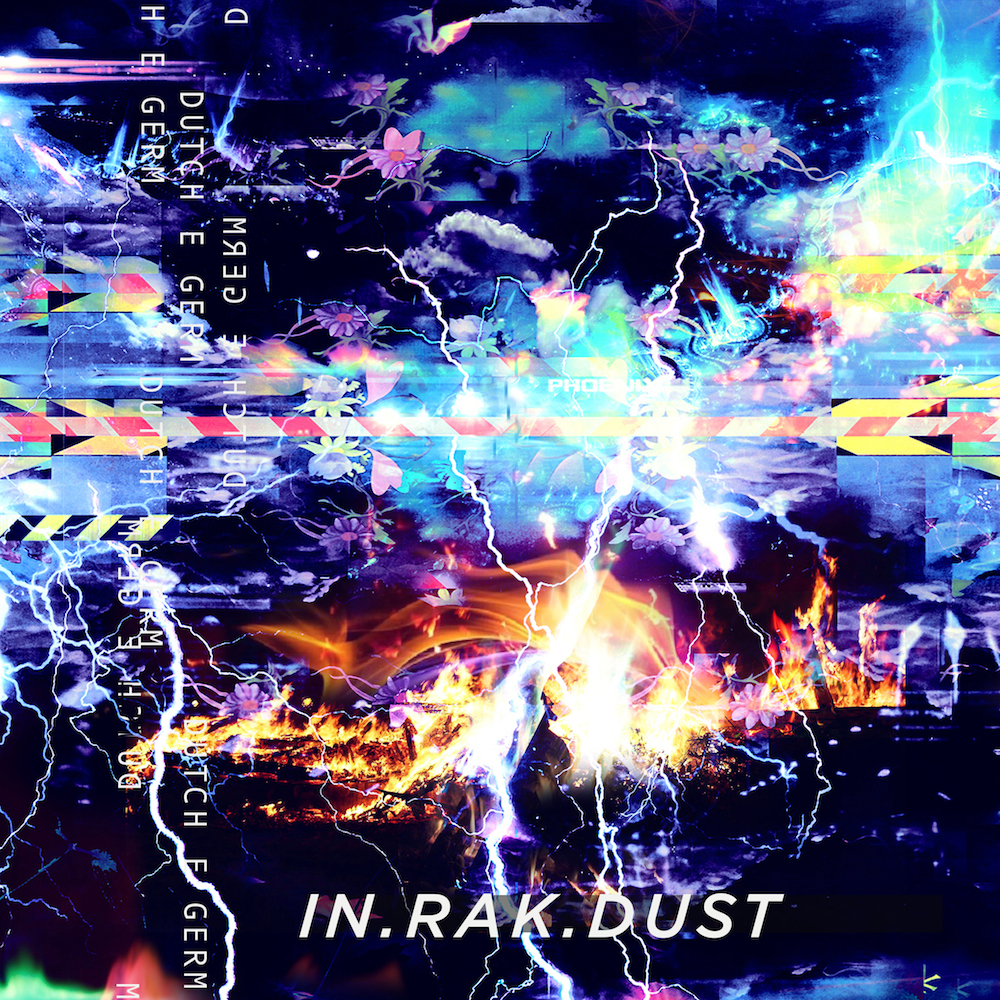 Dutch E Germ's In.Rak.Dust