Chino Amobi
,
NON
, Angel Ho, Nkisi, Serpentwithfeet,
SCRAAATCH
, E. Jane, chukwumaa, embaci,
Brandon Covington
, Elon,
Butch Dawson
,
Kayy Drizz
, Dog Food Music Group, Violence,
Mykki Blanco
, Psychoegyptian,
Yves Tumor
etc.
Back in December, angry New Yorkers gathered to sing "They Don't Care About Us" following the decision not to indict Eric Garner's killer, a police officer. The song's lyrics were written on a placard during a protest against the Ferguson police department in the wake of their fatal shooting of Michael Brown. It also provided the soundtrack to the Baltimore protests in response to the death of Freddie Gray in police custody, danced to by a Jackson impersonator amidst the chaos of helicopters and sirens... The song has recently found new layers of meaning and urgency in the context of the continuing struggle against racist police violence, now taken up by the Black Lives Matter movement...
It's no wonder that African and Afrodiasporic artists are choosing to disseminate music in solidarity. In many cases, this creative decision is a strategy for dealing with the alienation that is so often a part of Afrodiasporic experience. As the London-based writer Kodwo Eshun puts it in his 2003 essay Further Considerations on Afrofuturism: "the condition of alienation, understood in its most general sense, is a psychosocial inevitability that all Afrodiasporic art uses to its own advantage by creating contexts that encourage a process of disalienation." And yet in the continuing environment of white supremacy, this creativity is routinely either erased, appropriated, or confined to narrow and fetishized aesthetic areas...
"In no uncertain terms, the Intent of NON is to run counter to current Western hyper-capitalist modes of representation and function, exorcising the language of domination through the United Resistance of policed and exotified colored bodies," NON's email continued. "At a time when national (market) state financial and political systems are tested as never before, NON shall remain committed to the militant realities and potentials of 'The NON State.' NON came into existence through the Pan-African desire for representation on our own terms." As stated on their Soundcloud page, NON artists are "using sound as their primary media, to articulate the visible and invisible structures that create binaries in society, and in turn distribute power..."
One of the most beguiling and exciting voices to have emerged from underground music in recent times, Serpentwithfeet also appears on another track that NON reposted on their Soundcloud. Titled "Total Freedom," it finds the singer winding himself delicately around rising and falling tones, including those of an mbira. In an interview for Dazed, he discussed his self-described "PaganGospel" creed for living and said, "I am always ready to pierce things with my black-queer cutlery. I am constantly looking for ways to make my music extra gay and extra black..."
SCRAAATCH is an art and sound double act, originally from Washington DC and now based in Philadelphia, who often perform live. It consists of artists E. Jane and chukwumaa—read interviews with them here and here—and, along with the New Jersey born DJ Haram, they run the monthly Philly "club-not-club" night ATM. Also negotiating race, gender, queerness, mental illness, and the digital world in her artwork and photography, E. Jane makes sounds and edits under the names E_SCRAAATCH and Mhysa, typically with a glitchy, spectral take on R&B. Try their / her Soundcloud playlist I Have To Say No So Much Right Now, especially its magnificent title track. About their / her artwork, E. Jane said in a recent interview with The Offing, "I came to the conclusion that I am black and I am a woman, my body is thoroughly Black American and it is perceived as woman. Then I realized that means my body is not a 'safe' body. My body is an unprotected body. I started asking myself how we protect unprotected bodies? What if the body were code? What if the body were only a simulation? What if I could exaggerate how inhuman I feel?" Her partner in SCRAAATCH, chukwumaa, was born in Nigeria and "on a plane to the US the first week of [his] life." He also engages experimentally with pop as plus_c—the track "quadrille_club_bing" uses a Vine recording of "They Don't Care About Us" being sung during the Baltimore uprising, mixed into a distorted club beat and resonant tones like metal being brushed and played with a bow. He also made an installation consisting of twenty-one burner cellphones playing Beyoncé's "Flawless," which turned the song into a waterfall...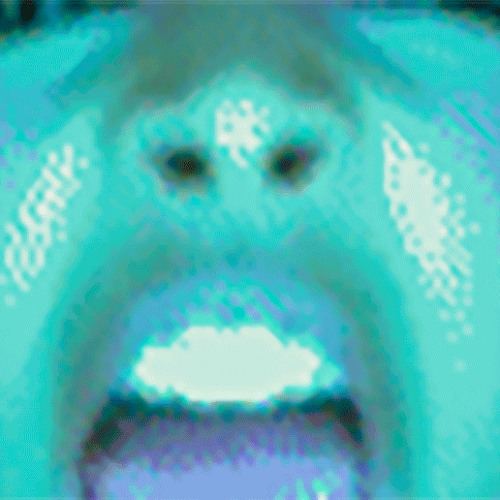 Thumbnail for E_SCRAAATCH's 'I Have To Say No So Much Right Now'
Chino Amobi appeared on [Blasting Voice], as did cross-U.S. artist Violence, who is soon to appear on the inaugural release of a new label founded by rapper Mykki Blanco called Dogfood Music Group. Due September 18th, the release will be a compilation titled C-ORE, featuring tracks from Violence, California's Yves Tumor, NYC rapper Psychoegyptian and Blanco himself. "We are a group of friends who have created a release that represents a slice of what we're into, our culture and what we want to show the world," Blanco has said about the collection. "People all over the world are only fed this singular image of 'African American Music' and we want to disrupt that. We all come from backgrounds outside of the black American norm, and the world deserves to see our culture as much as anything else..."
Needless to say, the artists mentioned here aren't the only African and Afrodiasporic artists making challenging and beautiful music in the underground, just a few constellations—there are countless more voices out there. As it has been for centuries, since the traumatic dawn of modernity, finding such voices through music is not just a leisure activity, as it is marketed to many of us. It's part of the urgent and fundamental search for self and identity in a world that not only erases that identity, or appropriates it, or predetermines it, or constrains it, or renders it fragmented and ostensibly paradoxical, but that also systematically commits physical violence upon people of that identity. This is why so many artists with minority status end up in underground music—this is why they are underground music. Fortunately, the underground can form spaces and networks where identity matters, is audible, and becomes visible.